JUNGLEMIX JUNIOR XXL 18 x 8
JUNGLEMIX JUNIOR XXL 18 x 8
Dietary supplement
Powder
XXL packaging
Satchets 18 x 8g
18 days of regular use
A tasty beverage for the growth and development of bones with Ca, Mg, vitamins
It contains bioavailable minerals – calcium and magnesium
Calcium and magnesium are in an optimal 2:1 ratio for an efficient absorption
Who is Junglemix Junior intended for?
All children from 3 years of age and teenagers up to 14 years of age
Children who do not consume certain food groups (milk and dairy products...)
Children who refuse to eat and picky children
Children in autumn and winter, when food is less rich with vitamins and minerals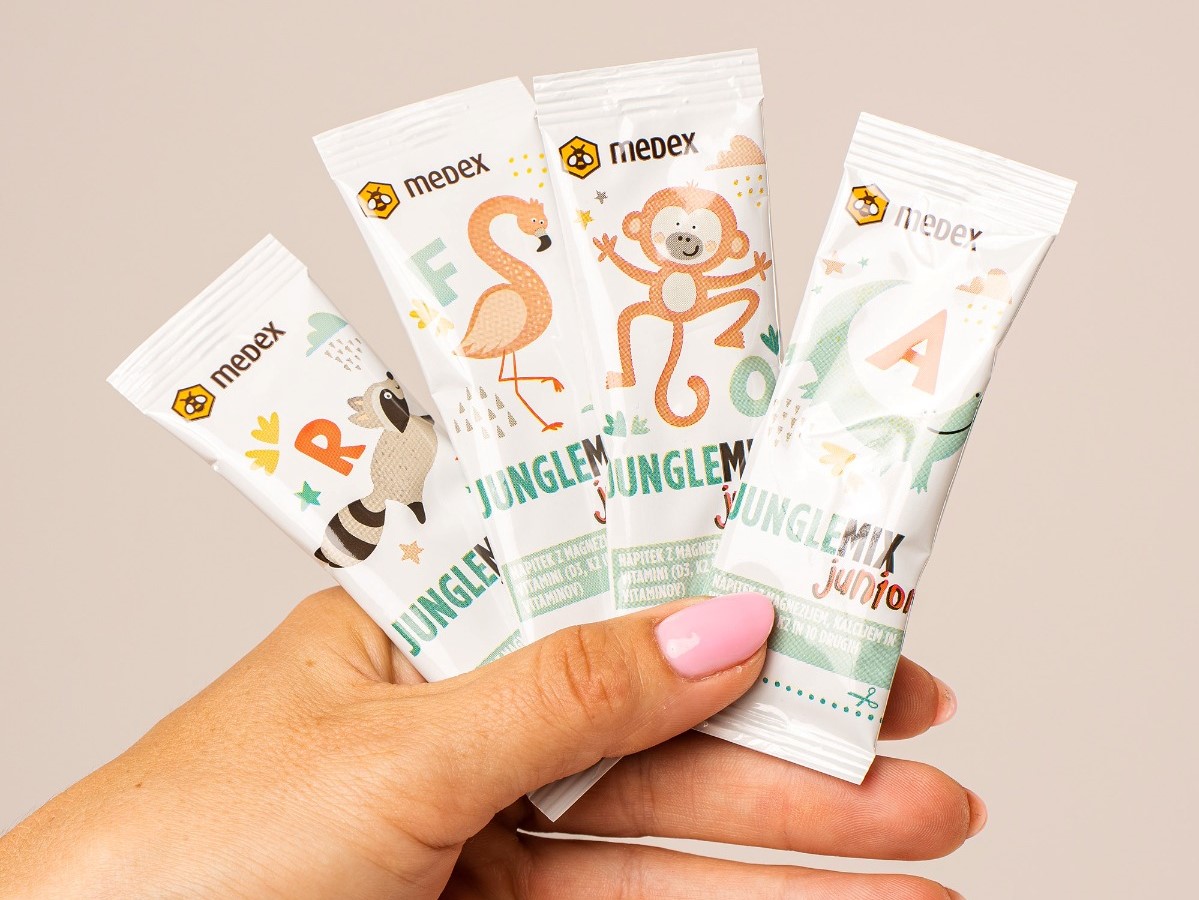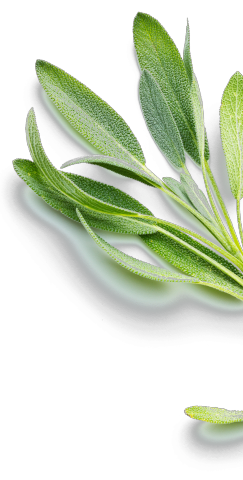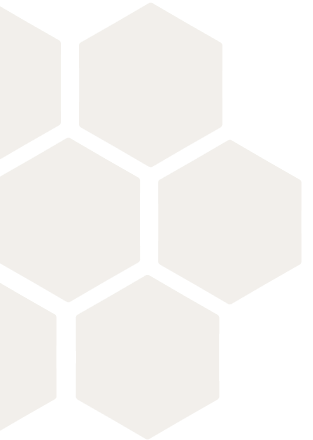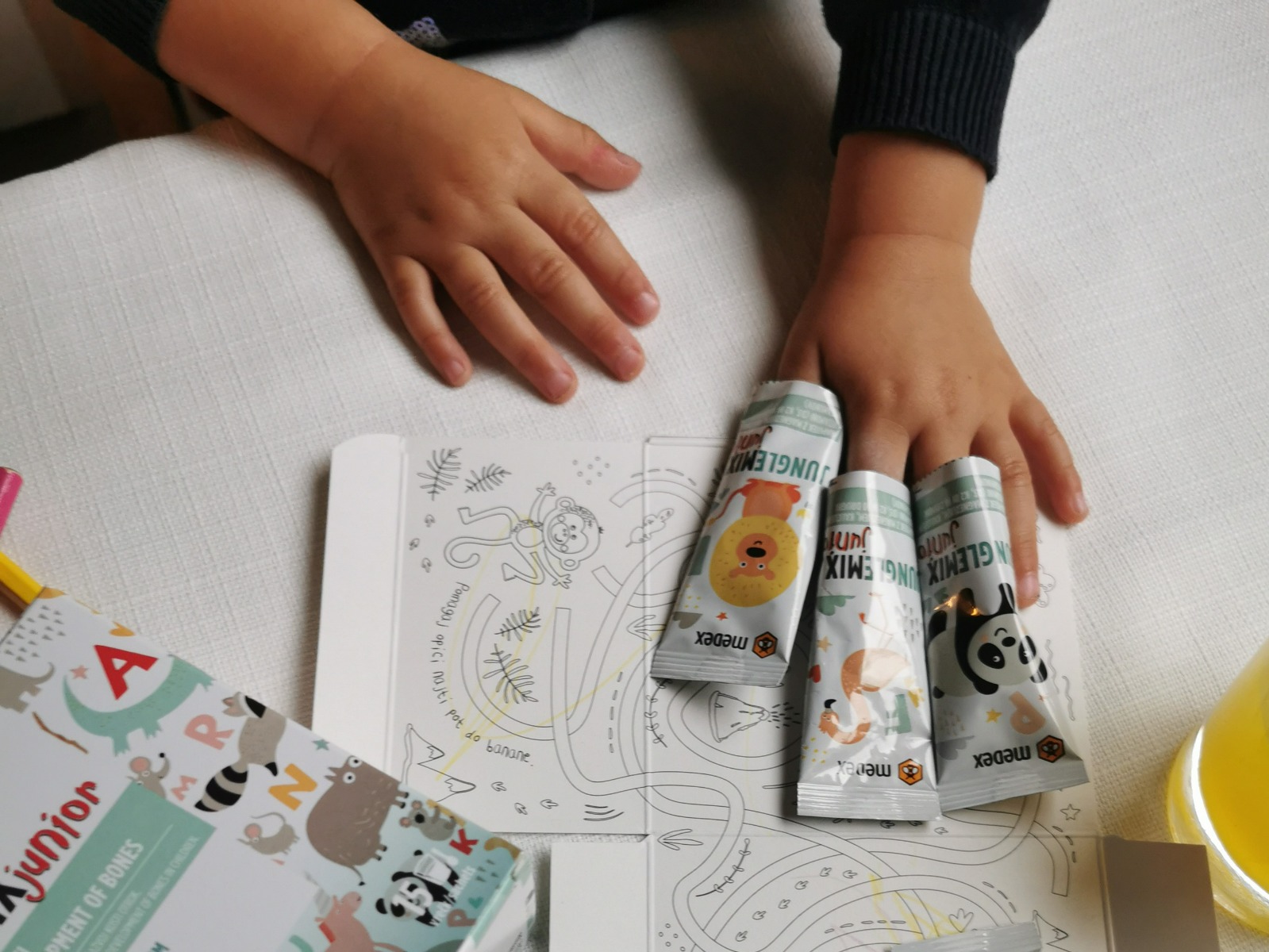 Quick facts about Junglemix Junior beverage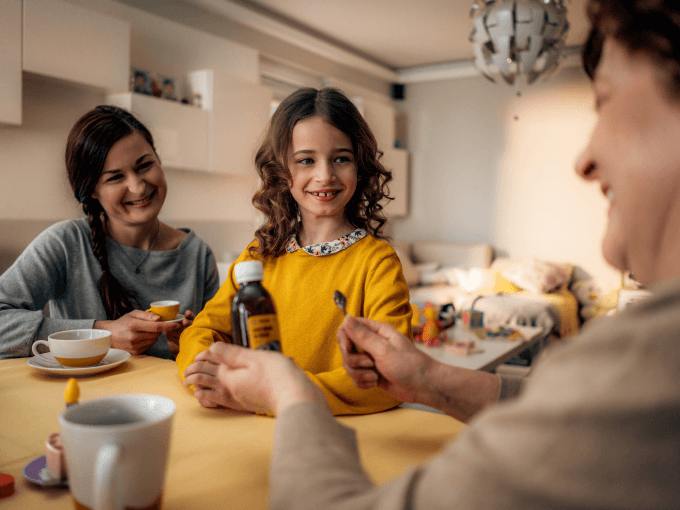 Because it is a balanced combination of calcium, magnesium and vitamins for supporting the development of strong bones, teeth and muscles of children.
Due to its optimal ratio between calcium and magnesium (2:1) and high content of both minerals (30% of recommended daily dose of calcium and 32% of recommended daily dose of magnesium).
The calcium to magnesium ratio of 2:1 ensures the optimal absorption and preservation of the balance of both minerals in the body.
Mg preserves calcium solubility and helps it transition through cell membranes. In this manner it ensures that calcium is being deposited in bones instead of soft tissues (heart, circulatory system).
For optimal calcium utilisation at all ages, and particularly for children in their period of growth, when the interaction of Ca, Mg and vitamins D3 and K2 is especially important.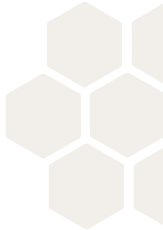 About product
So that our youngest will grow healthy
The Junglemix Junior beverage for bone growth and development contains bioavailable minerals – calcium and magnesium in the optimal ratio of 2:1 for an efficient absorption, vitamins D3 and K2 which contribute to better calcium absorption with their interaction, and is further enriched with additional 10 vitamins for a comprehensive action.
It has an excellent orange flavour, without artificial flavourings, colourings and sweeteners and is packed in an attractive interactive packaging.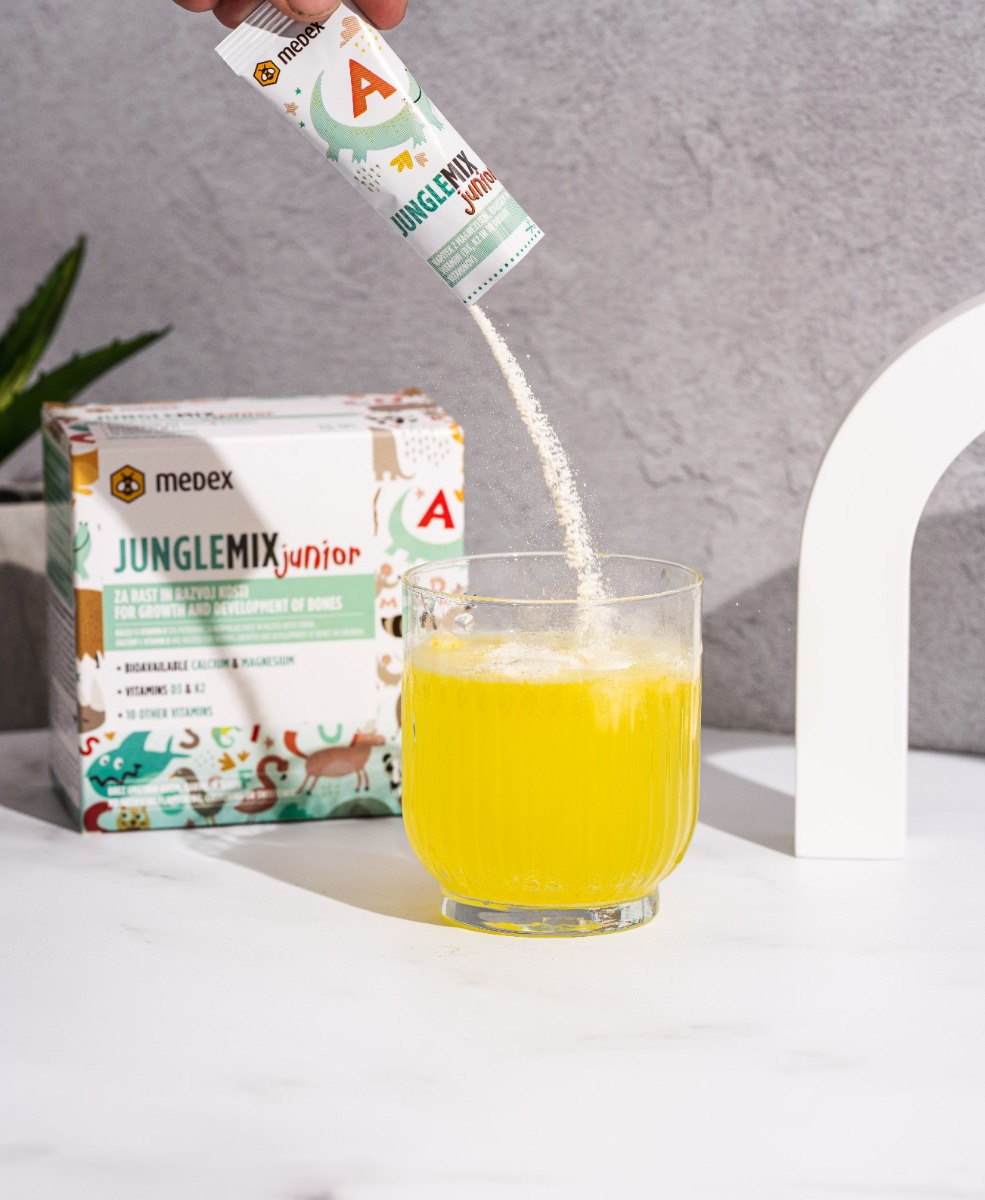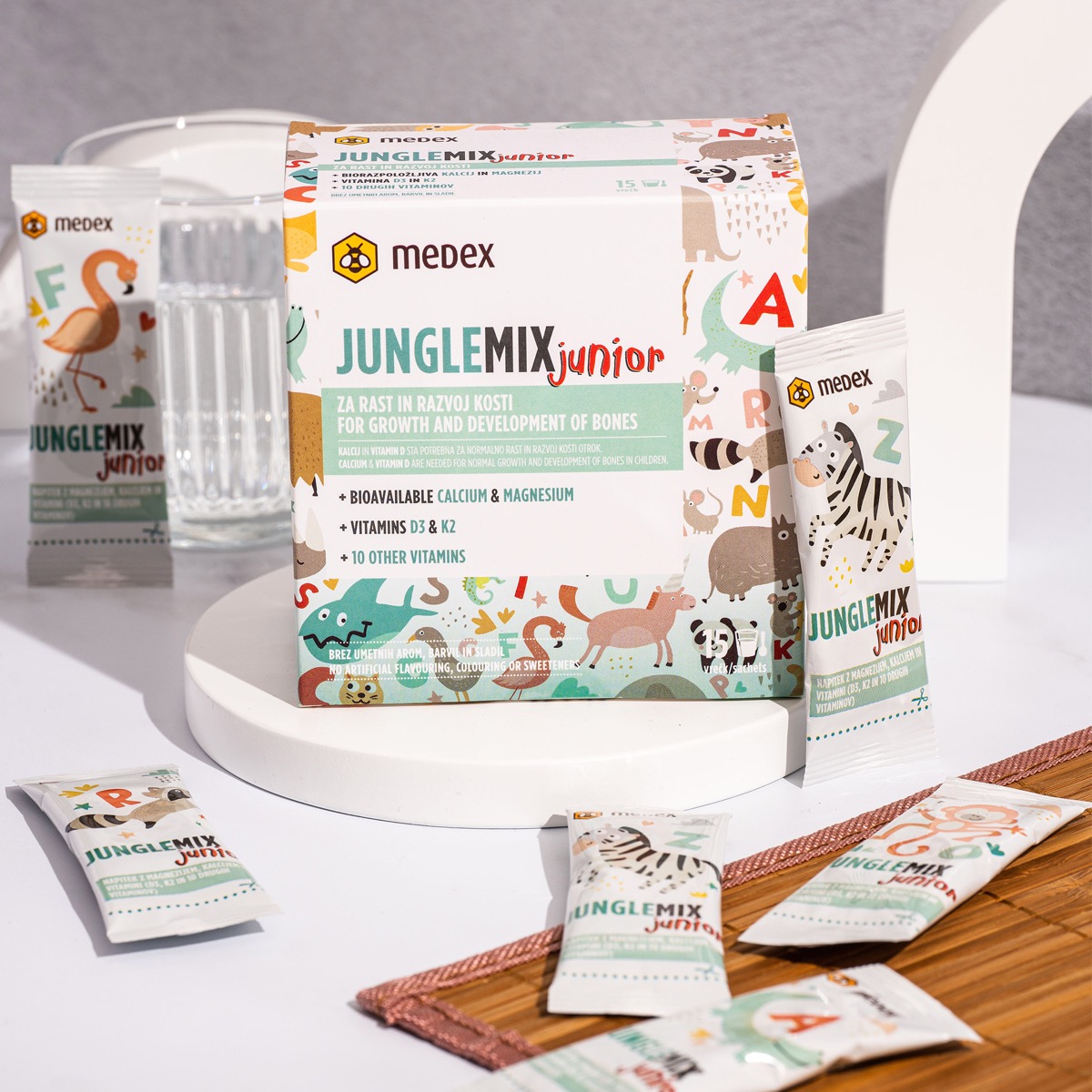 Interaction of Ca, Mg, D3 and K2
Magnesium and vitamin D3 help the body to efficiently absorb and use calcium. Magnesium converts vitamin D3 into an active form so that it may help calcium absorb into the intestine.
Magnesium also stimulates the calcitonin hormone that preserves the bone structure and extracts calcium from the blood and soft tissues. Vitamin D3 increases calcium absorption from the intestine into the bloodstream, vitamin K2 ensures that calcium is efficiently distributed into the bones. A sufficient quantity of both minerals and vitamins is extremely important for the optimal consumption of calcium at all ages. Particularly for the youngest during their growing period.
More Information

| | |
| --- | --- |
| Značka najbolje prodajano | No |
| Podnaslov | Dietary supplement;Powder;XXL packaging;Satchets 18 x 8g;18 days of regular use |
| Properties | No artificial colours, Vegan, No sweeteners, Lactose free, No artificial flavorings, Gluten free |
Uporaba izdelkov
Recommended daily amount and dosage instructions:
Pour the content of the sachet into a glass, add 100 ml of water, stir.
Priporočena dnevna količina je vsebina ene vrečke (8 g). Priporočeno je vsakodnevno uživanje, najmanj 3 mesece.
Priporočen odmerek za otroke: 1 sachet per day
Sestavine
fructose, calcium lactate, magnesium citrate, acidity regulators (citric acid, sodium carbonates), concentrated orange juice powder (maltodextrin, concentrated orange juice 1.3%), vitamin C (L-ascorbic acid), vitamin E (alpha tocopheryl acetate), vitamin A (retinyl palmitate, beta carotene), natural powdered orange flavour, vitamin D (cholecalciferol), vitamin K (menaquinone-MK-7), vitamin B1 (thiamin mononitrate), vitamin B2 (riboflavin), niacin (nicotinamide), pantothenic acid (calcium D-pantothenate), vitamin B6 (pyridoxine hydrochloride), folic acid (pteroylmonoglutamic acid), vitamin B12 (cyanocobalamin), anti-caking agent: silicon dioxide.
Pogosta vprašanja in odgovori
What is the role of magnesium in the body?
It is hard to find a process in which magnesium is not at least indirectly involved, since it serves as a structural part (proteins, nucleic acids) of bones and teeth. Our body is not able to form magnesium itself, that is why we introduce it into the body with food. Children and teenagers do not get sufficient amounts of magnesium due to a magnesium-poor diet, fast-paced lifestyle and irregular diet. Magnesium deficiency may be recognised by the following symptoms: muscle cramps, constant tiredness, lack of motivation for working and studying, waking up at night, moodiness and irritability, eye twitching.
How does the Junglemix Junior beverage work?
The Junglemix beverage is a balanced combination of calcium, magnesium (ratio 2:1) and other important vitamins for supporting the development of strong bones, teeth and muscles. All together it helps to get the calcium right where it is necessary - to the bones.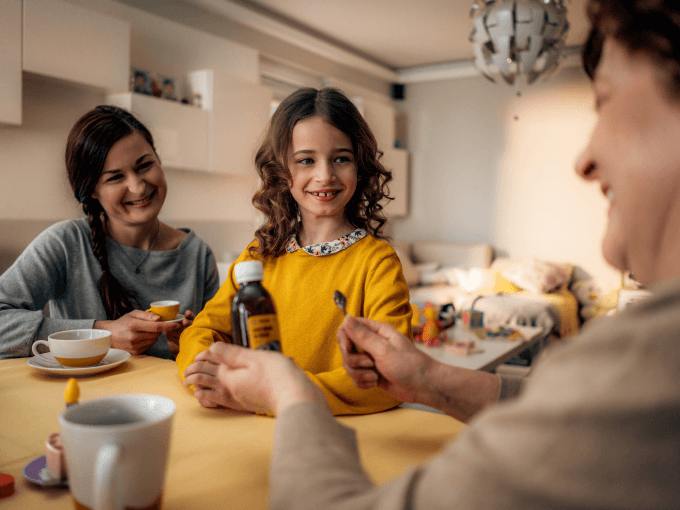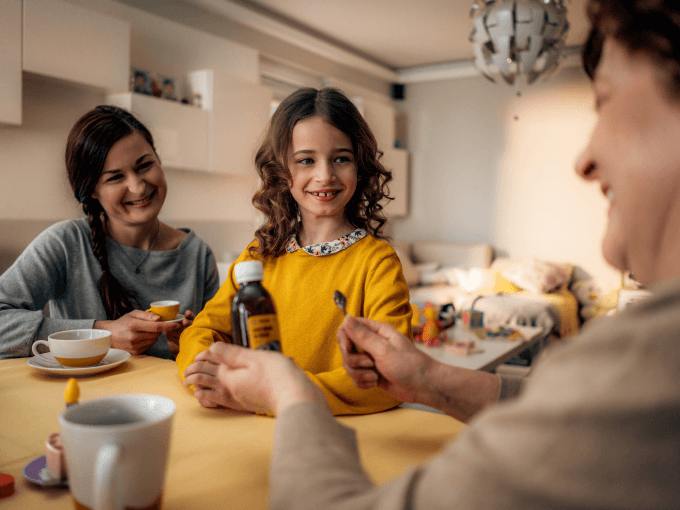 A bee family is an extraordinary superorganism. Each member has a specific role, which has preserved this species for millions of years. Bees, these amazing beings, "invented" magnificent preparations, such as propolis, royal jelly, honey, bee pollen – which are beneficial for people as well –, in order to survive. A Slovenian saying goes: Follow the bees. This is also the genetic make-up of our company, which defines us and from which we draw inspiration for our work.
Tradition and the power of nature remain the source and inspiration for our work. We complement them with the verified quality of patented and standardised ingredients, the effects of which are proven by clinical studies, in the right doses and combinations. In Medex's development laboratories a registered research team with 4 PhDs develops products that combine traditional use with clinically proven effects.
Medex products are based on standardised and controlled content of main active substances and high production standards with which we ensure their consistent quality. We also pay significant attention to selecting packaging and have been packing an increasing number of products in glass packaging in order to preserve the value and efficiency of natural active substances as best as possible and at the same to take better care for the environment.
Medex has been operating in a sustainable manner for decades. From a company, which established and developed beekeeping already in former Yugoslavia, grew an undertaking that is expanding beekeeping around the world. In this manner we are realising quite a few of the seventeen of Unesco's sustainable goals: eliminating poverty, hunger, caring of the environment, empowering women. Indeed, beekeeping contributes to the achievement of all these goals.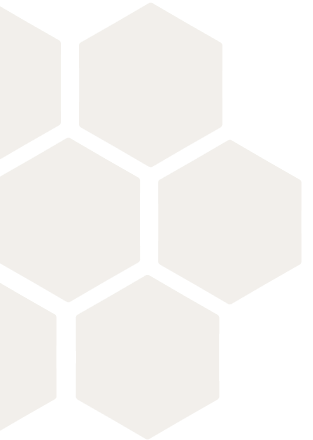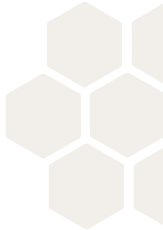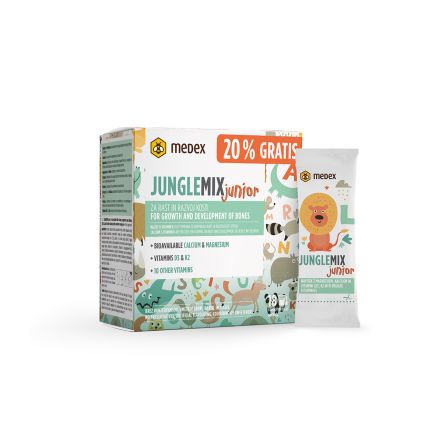 JUNGLEMIX JUNIOR XXL 18 x 8
Dietary supplement
Powder
XXL packaging
Satchets 18 x 8g
18 days of regular use
A tasty beverage for the growth and development of bones with Ca, Mg, vitamins
It contains bioavailable minerals – calcium and magnesium
Calcium and magnesium are in an optimal 2:1 ratio for an efficient absorption
We found other products you might like!