Our time is the most valuable thing we can give ourselves.
From the busy pace of life, overnight we entered a period where our main task is to stay at home. That is why the feeling that we are not making the most of our day creeps up on us involuntarily. However, every moment spent with those closest to you is actually optimal. Now is the ideal time to strengthen family ties and healthy relationships that we may have pushed aside a little in the fast pace. So you don't need much. Are you looking for ideas on how to connect even more or enrich shared moments? The Medex team has prepared some cute tips for you!
Magical shared moments are born precisely when the whole family is involved in the planning of activities.
Start the day with an activity together! Breakfast is the most important meal of the day, so take the time to prepare and enjoy the meal itself in the company of your family members. Try out different recipes! For example, delicious semolina pancakes with coconut chips are a nice suggestion, which will surely impress all family members.
2. Baking homemade delicacies
We don't always need complex ingredients to make extremely tasty things. Baking and cooking are activities that always successfully connect us. Homemade bakery products are therefore even tastier than store-bought ones, because they contain the secret ingredient - love. Let's look for recipes that we've already forgotten about - homemade bread, gingerbread, chocolate cookies. These days, the web is full of various challenges. But the most eye-catching thing will be the drozomania that gripped Slovenia. Find out what dregs are and how to bake bread with them or start a new tradition online. Don't forget to name your plant, because they say that's the only way it will grow every day.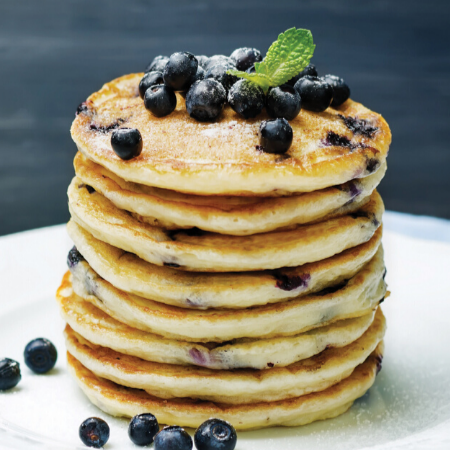 3. Develop new habits for your own well-being
But we must not forget that it is also extremely important how we take care of our health, resistance and consequent well-being during this time. Royal jelly from Medex's Gelée royale family helps you with this. This year, Teja Perjet and Jani Jugovic and the Perko family have developed a new habit with their youngest: every morning they toast together with bottles containing royal jelly, bursting with goodness. For the youngest, Gelée royale junior is suitable, while adults reach for Gelée royale super or Bio Gelée royale forte.
4. Organize a family portrait shoot right in the living room
Now is enough time for family portraits and developing photos. Nowadays, we don't want to miss precious moments, so we save most of them on our phone or computer. You don't always need a professional photographer to make beautiful memories. Sit on the couch, spread out around the kitchen counter, or dress up thematically and prepare a self-timer. The more photos you take, the more different collages you can create later. A fun idea is also to relive moments from photos of grandparents. Challenge your children to transform into the time of your grandparents and recreate a modern version of an old memory. Of course, this will simultaneously revive some interesting story and moment from the past.
5. Create a family vegetable corner
Let your home garden be a feast for the eyes and hardworking bees. Let's indulge in a bit of childish mischief and get our hands dirty. Take the pots, prepare the soil and seeds or bulbs, from which something beautiful will soon grow. If we have the opportunity, we divide the units in the garden for each member to plant something special. Sharing responsibilities is one of the key steps of growing up.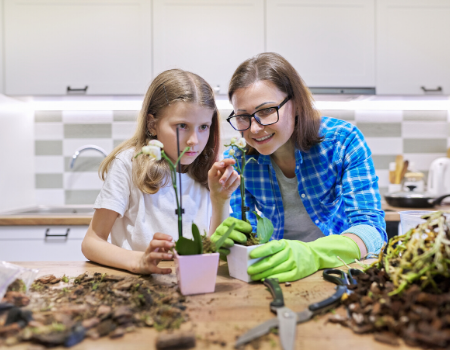 6. Let's exercise the body. Are you in favor of group exercise?
Exercising and exercising is more fun when done in a group. There are many exercises available that do not require any equipment and are performed in a slightly larger space or outside. Movement on a daily basis is extremely important for health and well-being. Many exercises are available online for free, adapted to different levels of difficulty. For a good measure of motivation and advice, you can watch Nataša Gorenc's video. Who among your family members can keep up with her pace?
7. Theme your movie nights
Movie nights under the covers and delicious snacks are an inevitable part of family evenings together. Every day, someone else should be in charge of choosing the repertoire, who should conjure up a special atmosphere with the choice of theme and decoration. For a special extra, we can watch a home-made family movie as a movie preview, even if it is only a few years old and saved on a mobile phone. Treat yourself to some fun candy too. We recommend ice cream sandwiches that we prepare ahead of time.
8. Nutritious snack smoothie
What could be better than a freshly homemade smoothie? You might be surprised which combinations of fruits and vegetables are all surprisingly tasty. By preparing fresh drinks, we contribute to physical vitality and well-being. For a fiber-rich day, add Psyllium Mg to a smoothie, which also contains magnesium and propolis.
9. Let's find forgotten puzzles or other board games
Find the board games that are waiting dusty on some cupboard. Some swear by more traditional games such as Zemlje krast, Ristanc or Enka. Others are looking for new, more modern ones like Activity, Settlers of Catan and Monopoly. Especially suitable in the current period would be the game Man does not get angry. It is in the latter that the colorful figurines rush home, where they diligently wait for the other players. Notice the similarity to the current situation? Multiple family members can also work together to put the puzzle together! Treat yourself to a cup of tea and snacks while socializing.
10. Let's conjure up a relaxing and nurturing day right at home
To conjure up a day like in a beauty salon or spa, it is not necessary to leave home. Nourishing masks for shiny and nourished skin can be easily prepared at home with fairly everyday ingredients. Simply cut a cucumber into rings and spread it on your face, or mash a banana and add a little honey to it. If you include your children in the spa day, they will feel like real little adults, as they will receive the same treatment as their parents. Nika Veger also shared the recipe for a useful homemade mask with us!
Many times something seems self-evident or so logical that it is not necessary to say it specifically. How nice would we all feel if we took a minute or two at the end of each day and said something nice to each other? It is necessary to end the day with a nice thought, a thank you or just simple words that mean a lot. Tell your family that you appreciate and love them!