CERAMIDES
Capsules
20 capsules
20 days of regular use
Ceramosides™ wheat ceramides demonstrably improve skin moisture and elasticity
Vitamin A and Zinc contribute to maintaining a healthy skin
Vitamins C, E and Zinc have an active role in protecting cells from oxidative stress
Who are the Ceramides capsules intended for?
To all those who want to improve skin hydration on the face and body
To all those who want to improve skin elasticity
To all those who know that skin is best nourished from the inside
To all those who prefer truly effective food supplements for the skin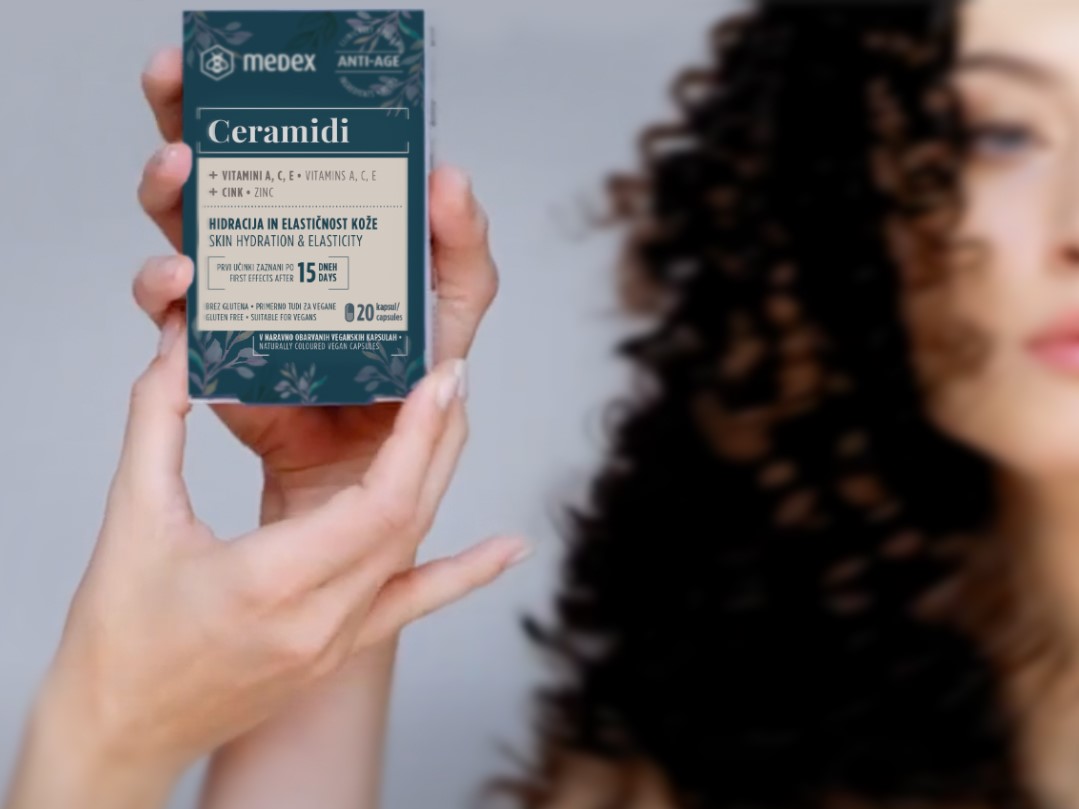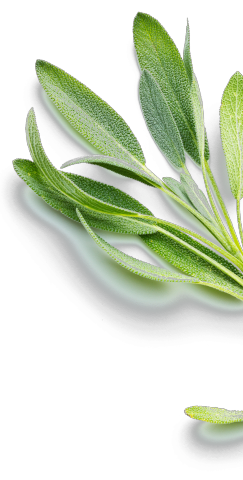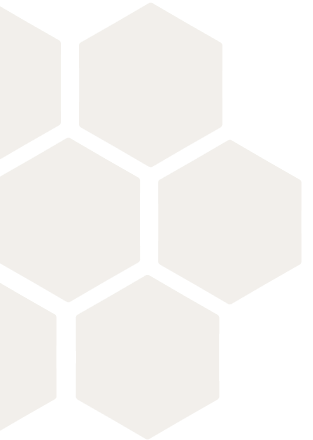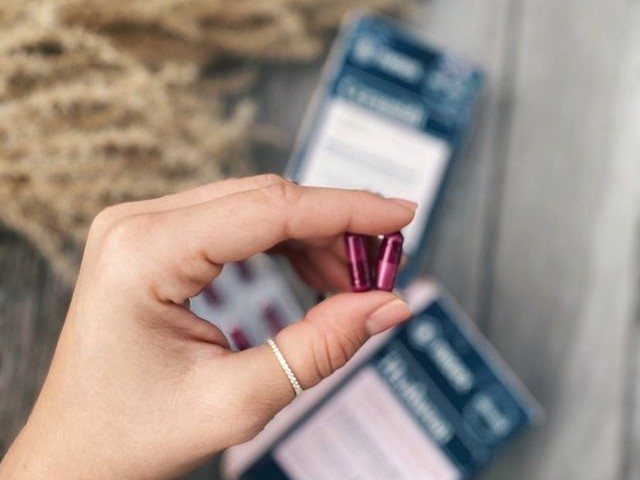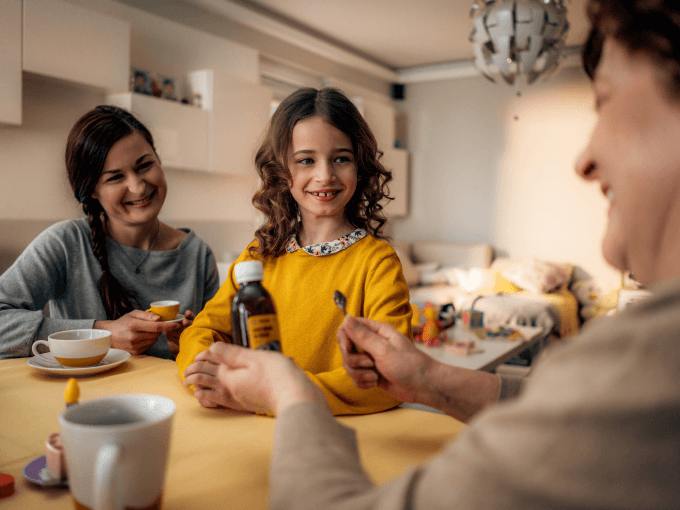 Quick facts about Cerimeds capsules
Ceramides are fat molecules that fill the spaces between corneocytes in the top skin layer. Corneocytes ensure skin hydration, and ceramides act as a sealing and prevent loss of water.
The lack of ceramides causes a dry and itchy skin, a feeling of skin tightening, coarseness and wrinkles.
Taking ceramides brings new ceramides into the skin, which helps restoring the water barrier and filling the cracks in the skin, and in addition to this it slows down collagen and elastin decomposition. The effects are visible on the skin of the entire body, not only on the face.
The effect was proven in two clinical trials. Randomised, double-blind, placebo-controlled trial has shown results of taking 30 mg of CERAMOSIDES ™ ceramides daily already after 15 days.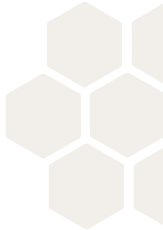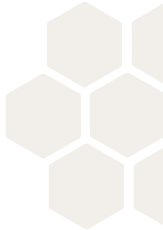 About product
Ceramosides™ plant ceramides, vitamins A, C, E and zinc in capsule
Ceramides are own fat molecules in the top layer of the skin, which fill in the spaces between corneocytes. These are dead cells which are generated from the epidermis cells, which form the stratum corneum of the skin and protect it against mechanical, chemical and microbiological damage. Corneocytes enable the appropriate hydration of skin layers. Ceramides work as a sealing between corneocytes and prevent the loss of water.
With aging, the quantity of ceramides in the skin begins to decrease. The lack of ceramides causes a dry and itchy skin, a feeling of skin tightening, coarseness and wrinkles. Ceramosides™ is a patented purified extract from wholegrain wheat from which the gluten allergen is removed, it does not contain GMO and is suitable for vegans.
It is standardised to sphingolipids and digalactosyl diglycerides (DGDG).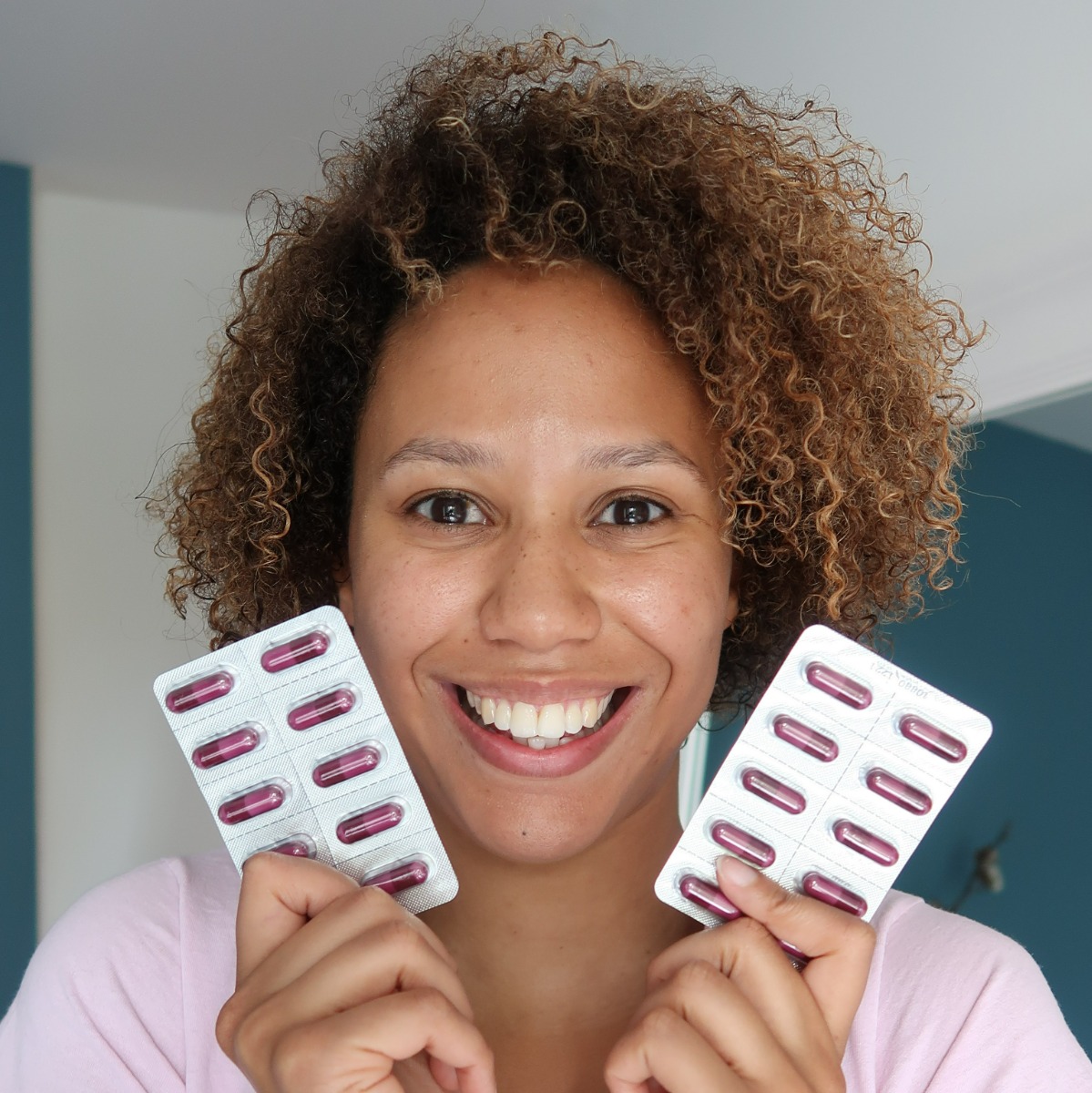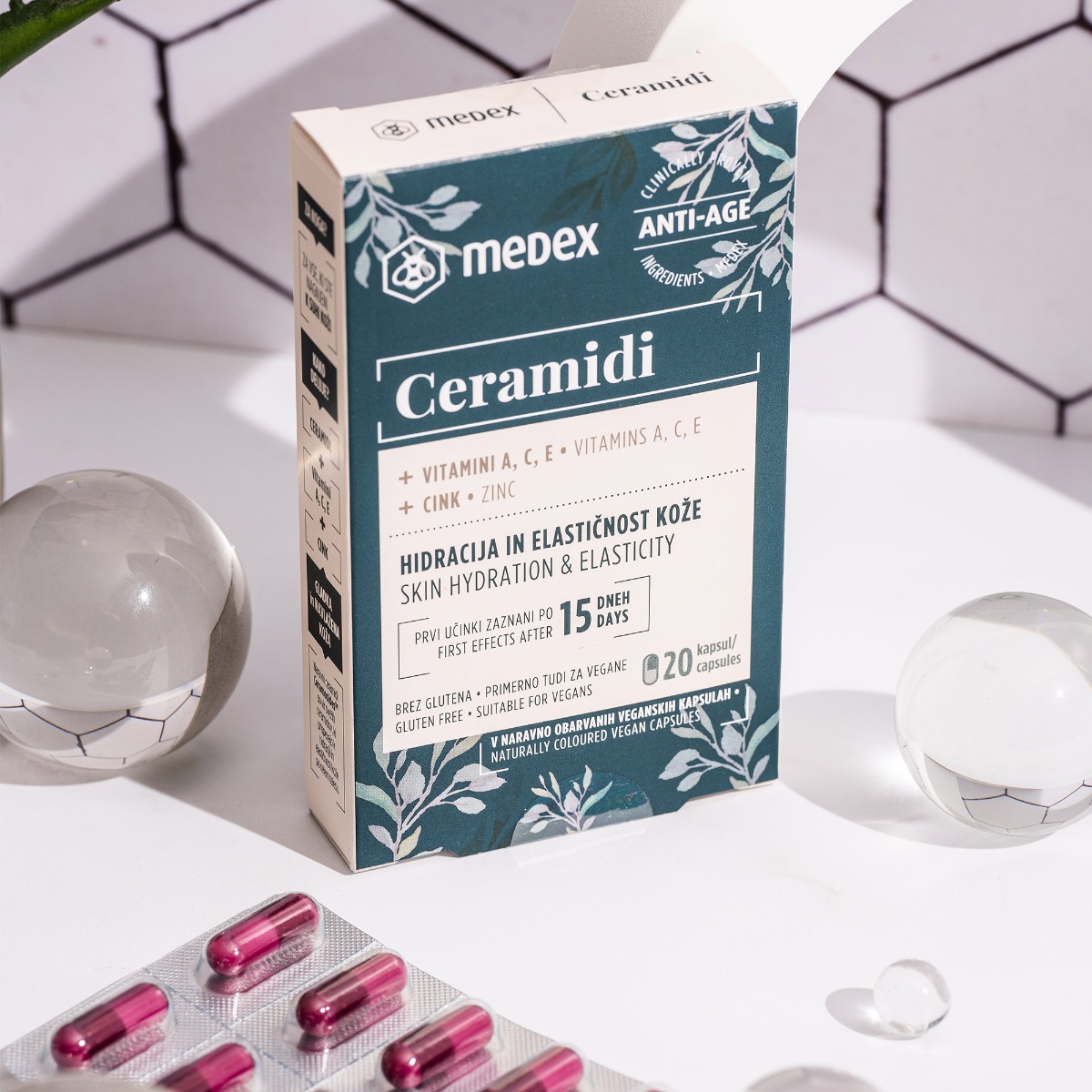 The effect of CERAMOSIDES™ ceramides was scientifically proven by two clinical studies and these ceramides contribute to a more elastic and hydrated skin.
Taking CERAMOSIDES™ ceramides brings new ceramides into the skin through the bloodstream, which helps restoring the water barrier and filling the cracks in the skin, and in addition to this it slows down collagen and elastin decomposition.
More Information

| | |
| --- | --- |
| Značka najbolje prodajano | Yes |
| Podnaslov | Capsules;20 capsules;20 days of regular use |
| Properties | No sugar added, Vegan, Lactose free, Gluten free, No preservatives |
Uporaba izdelkov
Recommended daily amount and dosage instructions:
Consume 1 capsule a day with 200 ml of water. At least 60 days of regular use are recommended.
Sestavine
Rice starch, vegetarian capsule (hydroxypropyl methyl cellulose, purple carrot concentrated juice), vitamin C (L-ascorbic acid), zinc gluconate, wheat ceramides (CeramosidesTM), vitamin E (alpha tocopherol acetate), vitamin A (retinyl palmitate), anti-caking agent: magnesium salts of fatty acids.
Ceramosides™ ceramides concentrated extract
Pogosta vprašanja in odgovori
Why is my skin so dry?
We all lose water through the skin on a daily basis – men and women, regardless of age and skin type. The skin is continuously in interaction with the external environment. In normal conditions it may rehydrate itself; however, some external factors persistently prevent this. Polluted air, UV rays, excessive use of shampoos and soaps, dry and cold air, tobacco, alcohol, fatigue, stress and ageing accelerate the loss of water in the skin and the skin is not able any more to regenerate its natural moisturising capacity and becomes dry as a result. Ceramides may be of help in moisturising your skin.
Why do I have the feeling of skin tightening ?
With seasonal changes and ageing, the ceramides in the skin and the overall content of lipids also change. In fact, the content of ceramides in older persons is by 30% smaller compared to younger people. At the same time, a smaller quantity of lipids in dry skin, among which atopic skin also belongs to, is also linked to a low quantity of ceramides. Ceramides protect the skin barrier from drying out and this help prevent issues with a dry and dehydrated skin.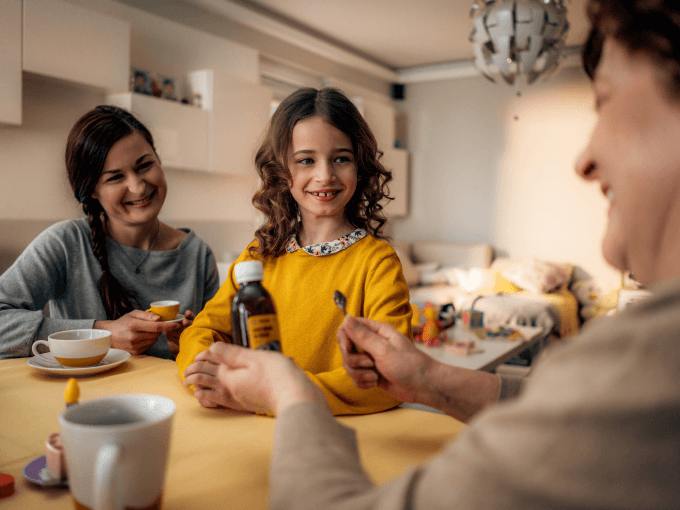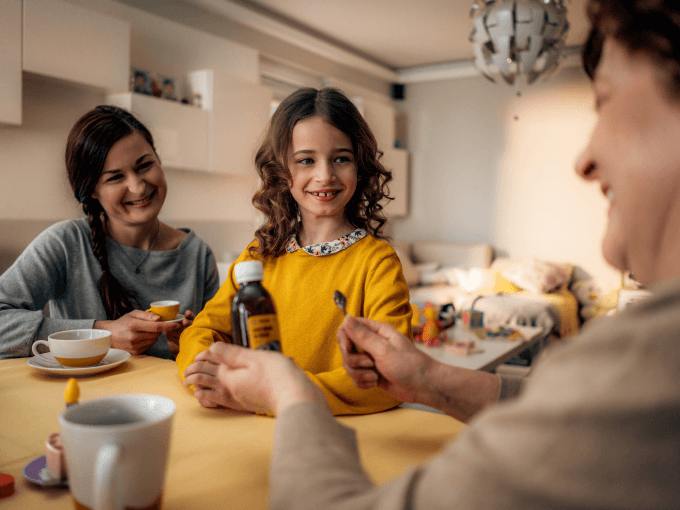 A bee family is an extraordinary superorganism. Each member has a specific role, which has preserved this species for millions of years. Bees, these amazing beings, "invented" magnificent preparations, such as propolis, royal jelly, honey, bee pollen – which are beneficial for people as well –, in order to survive. A Slovenian saying goes: Follow the bees. This is also the genetic make-up of our company, which defines us and from which we draw inspiration for our work.
Tradition and the power of nature remain the source and inspiration for our work. We complement them with the verified quality of patented and standardised ingredients, the effects of which are proven by clinical studies, in the right doses and combinations. In Medex's development laboratories a registered research team with 4 PhDs develops products that combine traditional use with clinically proven effects.
Medex products are based on standardised and controlled content of main active substances and high production standards with which we ensure their consistent quality. We also pay significant attention to selecting packaging and have been packing an increasing number of products in glass packaging in order to preserve the value and efficiency of natural active substances as best as possible and at the same to take better care for the environment.
Medex has been operating in a sustainable manner for decades. From a company, which established and developed beekeeping already in former Yugoslavia, grew an undertaking that is expanding beekeeping around the world. In this manner we are realising quite a few of the seventeen of Unesco's sustainable goals: eliminating poverty, hunger, caring of the environment, empowering women. Indeed, beekeeping contributes to the achievement of all these goals.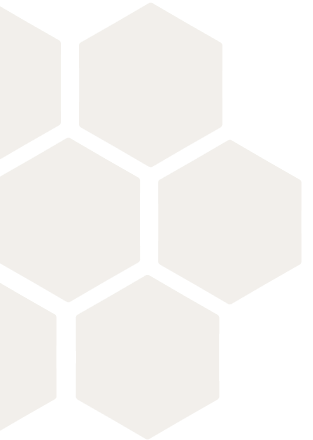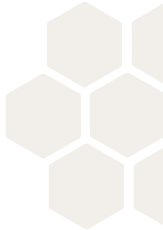 CERAMIDES
Capsules
20 capsules
20 days of regular use
Ceramosides™ wheat ceramides demonstrably improve skin moisture and elasticity
Vitamin A and Zinc contribute to maintaining a healthy skin
Vitamins C, E and Zinc have an active role in protecting cells from oxidative stress
We found other products you might like!